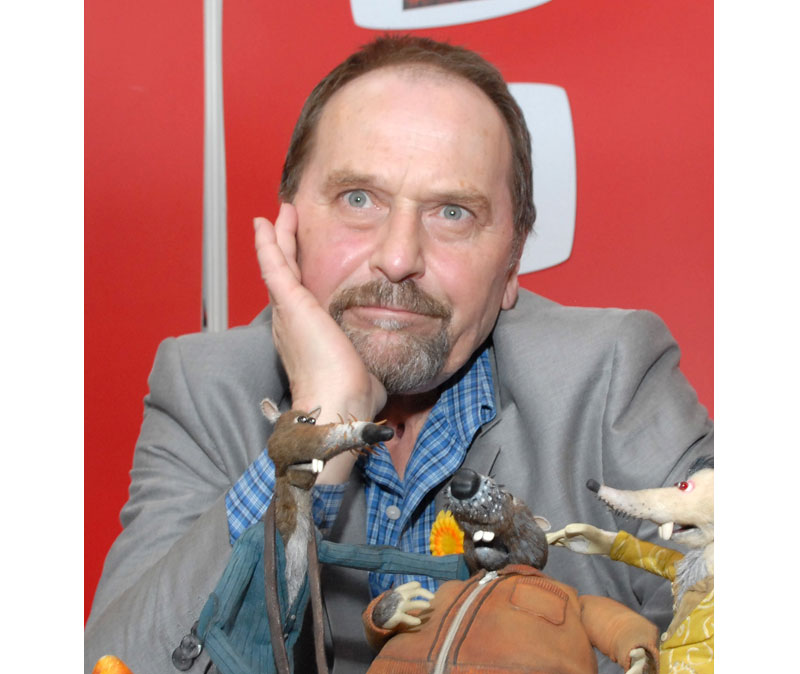 JIŘÍ ŽÁČEK (b. 1945)
Poet, aphorist; author of short prose, stage plays, verse for children, theatre and television programmes for children, musicals; translator of poetry.
Although Jiří Žáček graduated in technical subjects, he began to publish verse in magazines in the 1960s. Since 1974 his dedication to poetry has included working as an editor for a publishing house. He lives in Prague.
His first volume of poetry, Ráno modřejší večera (1970), was written for adult readers. In spite of its tiny print run, it signalled the arrival of an author who would soon be a firm favourite with the young and very young, making him one of Czechoslovakia's most widely read poets. Today he is the author of many collections of poems, aphorisms and epigrams for adult readers. Jiří Žáček is involved in the translation of poetry from many countries, most notably Slovakia (e.g. work by Ľubomír Feldek and Daniel Hevier) and France (e.g. Guillaume Apollinaire, Jacques Prévert).
His first book of poems for children was Aprílová škola (1978), and he is the author of a spelling book for first-graders. His words have accompanied numerous colouring books, foldout picture books and occasional prints.
Although Žáček's poetry owes much to Jan Čarek, František Hrubín and František Halas, it came up with something completely new. When released by Albatros thirty-six years ago, Aprílová škola had a fresh, innovative quality that injected new vividness and verbal playfulness into Czech children's poetry. It was accepted by children and teenagers spontaneously, achieving a bestseller status that saw its third edition published in 100,000 copies. Žáček's work for adults and children is characterized by humour and wit that capture both good and bad in today's world. In his collections for adult readers, he uses irony and sarcasm to criticize what is tedious in everyday life and all manner of vice in today's world, yet he doesn't fight shy of love poetry. His poetry for children is simply and naturally informed by children's ideas, and its themes reflect the experience and feelings of children; it takes the form of rhymes, riddles and stories, as well as playful, mischievous verse. Viewed as a whole, the style and tone of Žáček's poetry is unmistakable. We know it by the lightness and flair with which the author plays with words, and by the atmosphere that surrounds us when we read it.
As the poet said some years ago: "To write for children means to discover a world where life is lived at full throttle, no one ever gets bored, miracles of life still amaze us and we long to get to the root of everything. Writing for children is rejuvenating, a school of delight."
Books by Jiří Žáček